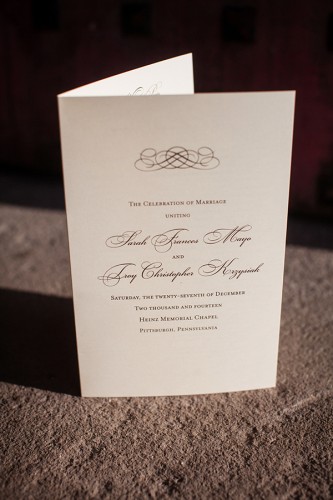 Where to begin? The Guest List!
Following the flurry of congratulatory exchanges and well-wishes, as a bride-to-be you will then be faced with numerous crucial planning decisions.  Will we have a theme?  Are we more of a rustic-barn themed couple?  Sleek and professional, maybe?  These questions seem to be never-ending for newly engaged brides.  Yet, as I often explain to clients, starting with these questions creates a "backwards" planning process.
Well aware that the first decisions that brides-to-be make are inevitably the hardest, I reassure clients that the planning process gets easier in time.  That being said, a large portion of your budget will depend on the number of people invited and the number who will attend your wedding.  It has been my experience that brides often make a common mistake:  They book a venue before they finalize their guest list.  If you were to book a venue that accommodates a maximum of 100 guests and find yourself with a guest list over 200, you must either eliminate 50% of your guests or forgo your deposit.   This is the main predicament we hope to avoid by first compiling the guest list before moving to venue selection.
We must also consider the wedding budget when planning the number of invited guests.  At this juncture, the bridal couple must start to think about the type of reception they would like to have and the atmosphere that will be provided for their guests.  With a limited number of guests, you may create a warm, familiar, intimate atmosphere.  Conversely, you may opt for a light-hearted atmosphere with a large guest list where the entertainment and enjoyment of your guests is the main concern.  It is important to bear in mind that the more guests invited the higher the costs, as many aspects of the reception – hors d'oeuvre, dinner and beverages (both alcoholic and coffee, tea, and other non-alcoholic drinks), table linens, invitations, escort and place cards and table centerpieces – increase as the number of guests in attendance increase.
When drafting the guest list many questions arise:  Must all of those on the guest list be invited to bring an escort or guest?  Should the children of invited guests be included?  How to invite separated or divorced couples?
The following guidelines reference both Emily Post's Etiquette (Post, Emily, Emily Post's Etiquette, Harper Collins Publishers, 1997) and (Baldrige, Letitia, Amy Vanderbilt's Complete Book of Etiquette Doubleday and Company, Inc. 1978).
The guest list should include your immediate family members, regardless of age.  Spouses of married family members and friends should be included on the guest list.  Guests who are living with a partner as a couple, the person with whom they are living must be included on the guest list.  Both members of a couple who have announced their engagement must be included on the guest list.
When considering children, you may invite as many children as you prefer, however, the children in your immediate family and the children of your siblings should be included on the guest list.  Other children, those of more distant family and friends may or may not be invited – as you choose; however, the decision to invite or not invite the children of your more distant family and friends must be consistently applied to all of those on your guest list.
Couples who are separated but not divorced should both be invited to the wedding, just as both members of a married couple are included.   The former spouses of invited guests need not be included.  For those guests who are dating but not engaged, their "significant others" may be, but do not have to be, invited – this is a choice.
Once the stress of making the guest list is complete, you then may make an assumption regarding the number of invited guests who will attend your wedding reception.  I have learned through experience that 10% to 20% of the guests invited to a wedding that is local to their home will be unable to attend.  When guests who must travel long distances to attend the wedding, or for weddings that take place close to a major holiday, a greater number of invited guests will not attend.  Whether this is due to work, family obligations or illness, brides-to-be must be aware that the number of guests invited will not be the number present on the wedding day.
If you are only planning to invite close family and friends, you can expect the attendance rate to be very high and you may assume that 90% of your invited guests will attend your wedding.  As your guest list grows, you may be moving from the "close family and friends" list to include more "distant family and friends".  Thus, a smaller proportion of this list of invited guests may attend and for planning purposes, one may estimate that 70% to 75% of invited guests will attend.
I encourage newly engaged couples to begin their wedding planning with the guest list.  With costs rising per guest invited and attending, it is important to plan the list before planning anything else.  As noted, there are situations that you will not be able to anticipate, but do try and take the long view.  Include those guests with whom you expect to have a relationship over the long term.  Though the comfort and enjoyment of your guests is a high priority, you must always remember that this is your party and that of those family members with whose help you are planning your wedding.  Invite those guests with whom you (or your parents – if they are participating in the wedding planning) have a strong relationship and who will add joy to your special day.
Best wishes!
Christine Ferguson, Prima Eventi Pittsburgh